Top Luxury Living Rooms in NYC – Part II – Some interior designers have influenced the way people think about design by making it more accessible, others were selected because they are iconic and a source of inspiration for many, and others yet because of the way they challenge and inspire through their media presence. Get inspired!
See also:
Top Luxury Living Rooms in NYC – Part I
Top Luxury Living Rooms in NYC – Part III


Jayne Design Studio, Inc.
Rooms by Thomas Jayne always reflect a strong connection to history and place. He draws upon their past for inspiration, seeking details that will deepen and enliven their interior decoration. Whether the locale is a Soho loft in a late 19th century industrial building or a historic Federal house built by a New England whaling merchant, the settings become part of the narrative, their history providing the impetus for the design.
Jonathan Adler
Jonathan Adler is a potter, designer and author. He owns a design company that's dedicated to bringing "grooviness to your home" with pottery, furniture, rugs, stationary, etc. Creating lavish interiors for venues including the Parker Palm Springs Hotel and Planet Hollywood Las Vegas. Adler launched his first ceramic collection in 1993 at Barneys New York, and five years later he expanded into home furnishings, opening his first namesake boutique in Manhattan. Adler's inspirations have come from Mid-century modern, art and global pop culture.
Meshberg Group
Meshberg Group was founded in 2006 by Adam Meshberg, and nowadays is one of the toppest Brooklyn-based design studios. Their goal is to focus "on integrating timeless architectural elements of the past with contemporary materials and methods of the present".
Sasha Bikoff
Sasha Bikoff is known for her balanced understanding of design, flawless execution, and technical knowhow sculpted from her vast worldly exploits and experiences. Bikoff's style is heavily influenced by the multicultural flavors of her hometown, New York City, and from her experiences traveling abroad. In her projects, her remarkable lineup of brands and products break design rules and inspire a lavish-yet-eclectic lifestyle. 
Studio Sofield
Studio Sofield is an integrative New York-based design firm dedicated to multiple disciplines, creative relationships with clients and productive collaborations with artisans and artists. Sofield's work is characterized by a holistic approach to design that encompasses the requirements of luxury living.
Groves and Co
With offices in New York, East Hampton, and Los Angeles, this collective is a true reference in contemporary design. Groves and Co takes craftsmanshipto a new level, by being in close contact with both artisans and engineers, they create not only beautiful but transcendent spaces. That's why they are one of our design inspirations!
Jonathan Adler
Potter, artist, author, and interior designer, Jonathan Adler is the embodiment of all the best that contemporary design has to give. He has worked on several projects such as the styling of the Parker Palm Springs Hotel. Most recently, he designed thirty-one VIP cabanas for DreamWorks Water Park, which opened to the public this late October. Interior Design and Entertainment combined!
Ryan Korban
This genius designer based in New York does not only create beautiful and engaging spaces, but he almost tells a story through them. He combines what there is best in Contemporary Design with an amazing Storytelling ability. Every creation is unique and that is why we believe that he is one of the Best Interior Designers out there!
Shamir Shah Design
Shamir Shah Design unites two very important principles: client centricity and creativity. They take what is someone else's vision and they give a form. Experience and a true understanding of Interior Design make this company one of the best in New York. Contemporary design at its best!
Bella Mancini Design
This company is one of the Top Residential Interior Designfirms based in New York City. They specialize in highly customized and hands-on design, creating modern high-end spaces. Allying what is contemporary design and old traditions, Bella Mancini Design has everything to be a Top Interior Designer.
Vicente Wolf
Vicente Wolf is a Cuban-born American interior designer based in Manhattan who designs hotels, private residences, and furniture. Despite rejecting the label of 'minimalist', he is known for his high-tech clean spaces. There's a certain serenity and eclecticism to his spaces. Vicente Wolf is one of the Best Interior Designers out there! A true inspiration!
Bradfield & Tobin
Bradfield & Tobin is a distinguished, high-end interior design company located in New York City that specializes in creating the most exquisite spaces in the world. They are known for their ability to turn every space into pure refinement and luxury. That is why they are a true Design Inspiration and that is why they are on our Top Interior Designers.
Ingrao Inc
Partners Tony Ingrao and Randy Kemper are the founders of Ingrao Inc, a company established in 1982, comprised of 36 interior designers and architects. Based in New York City, they have redefined the world of modern luxury and contemporary design. Refinement and quality allied, create truly unique spaces. It is only natural that they would be part of our Top Designers in New York City.
Inspiring Living Rooms by Luxxu
Benefiting from an open concept, the dining and living room space was designed to embody a sense of grandiosity, timelessness, and brightness. It is rather generous in scale and, as such, is well-appointed with a plethora of remarkable furniture and lighting designs curated by LUXXU.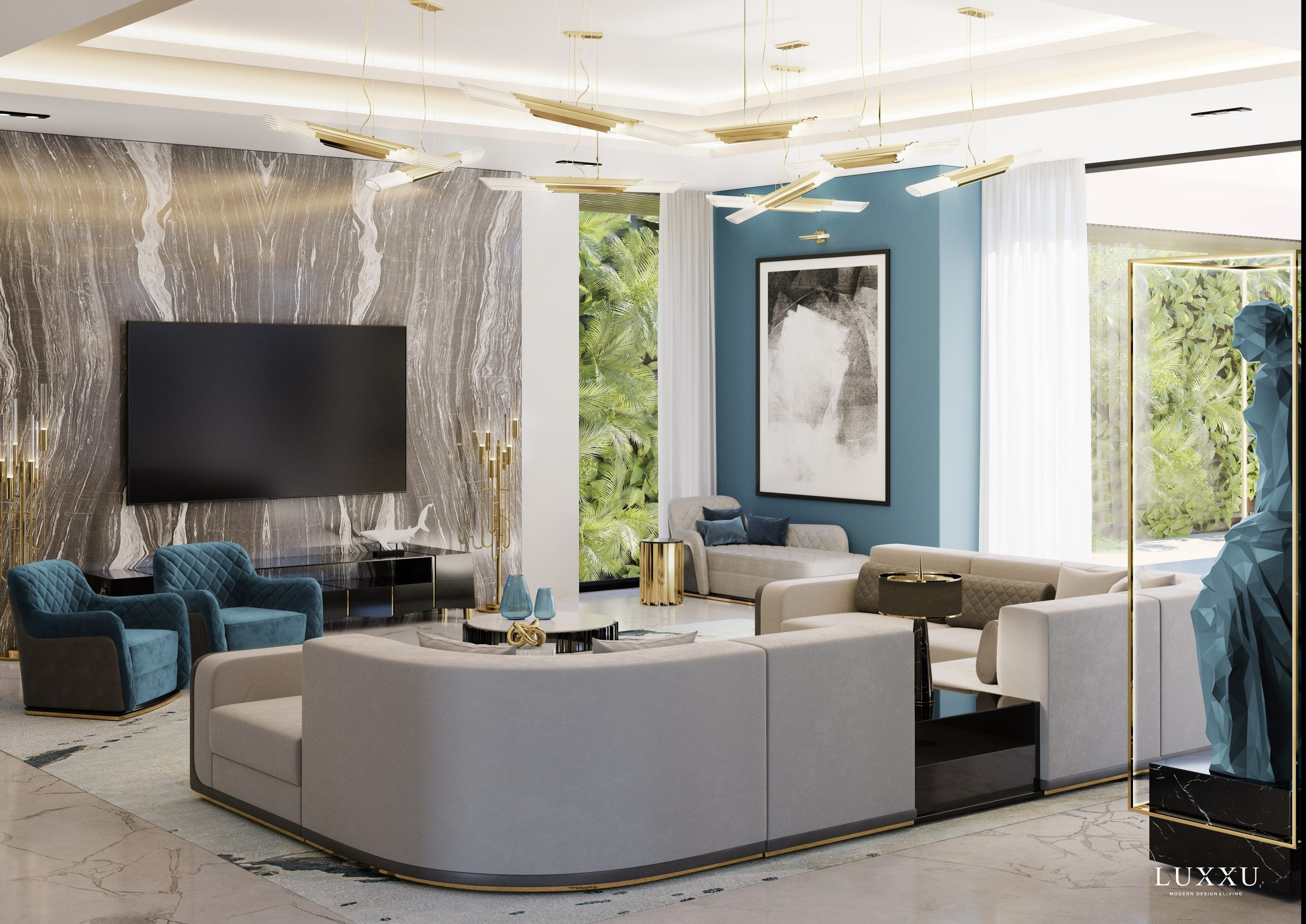 This space boasts a curated selection of clean-lined, contemporary furnishings warmed up with ever-so-subtle touches like luxurious upholstery, gold details, and high-end marble.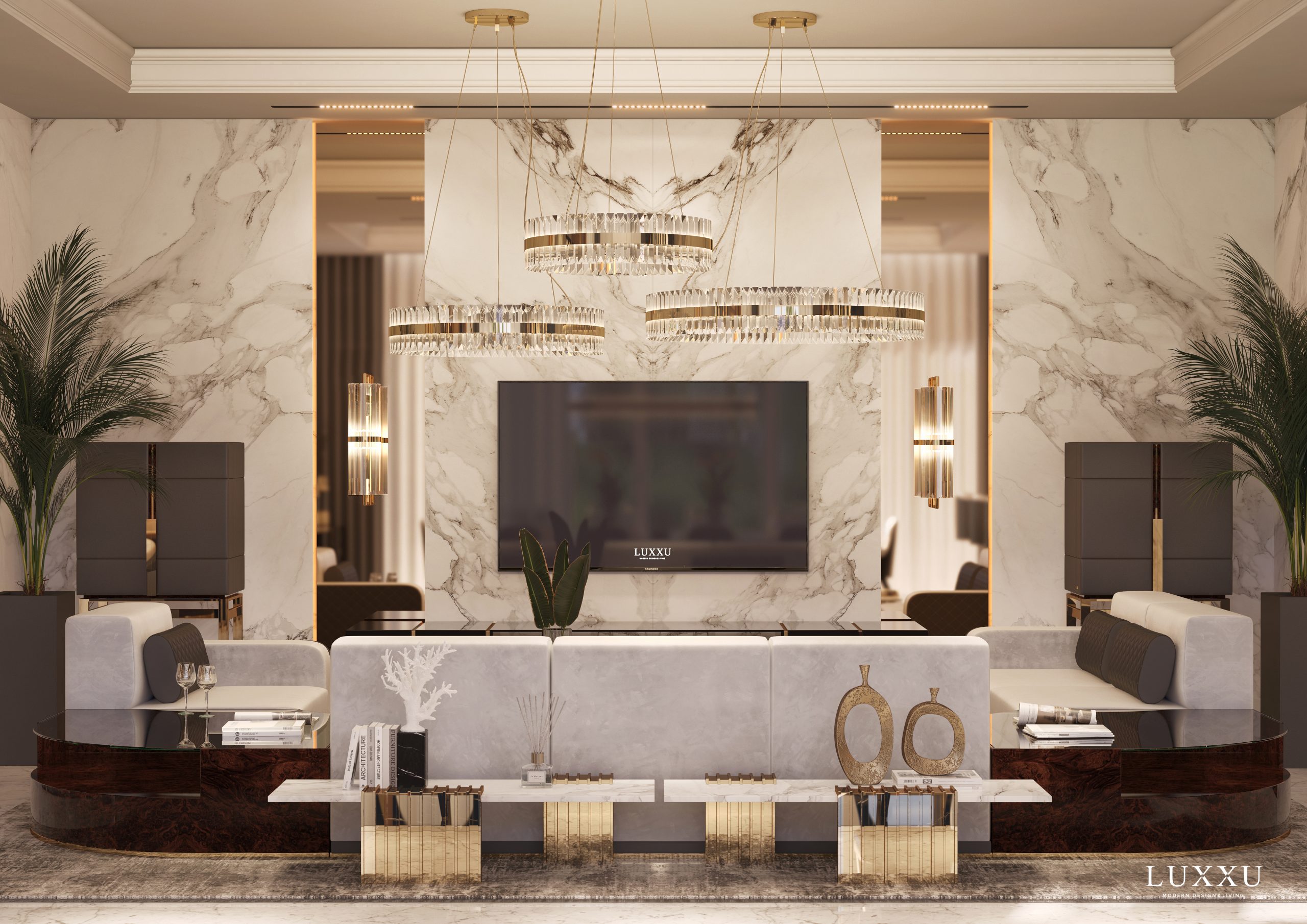 Neutral tones are a timeless trend and lately have been in vogue in different ambiances like this luxury living room. In this living room, charm is very evident, combining a modern language with a luxurious setting and impressing us with the symphony that the whole project contemplates.
The monochrome palette of this space creates an atmosphere of elegance and sophistication. Modern black and white living room inspiration with nice rugs.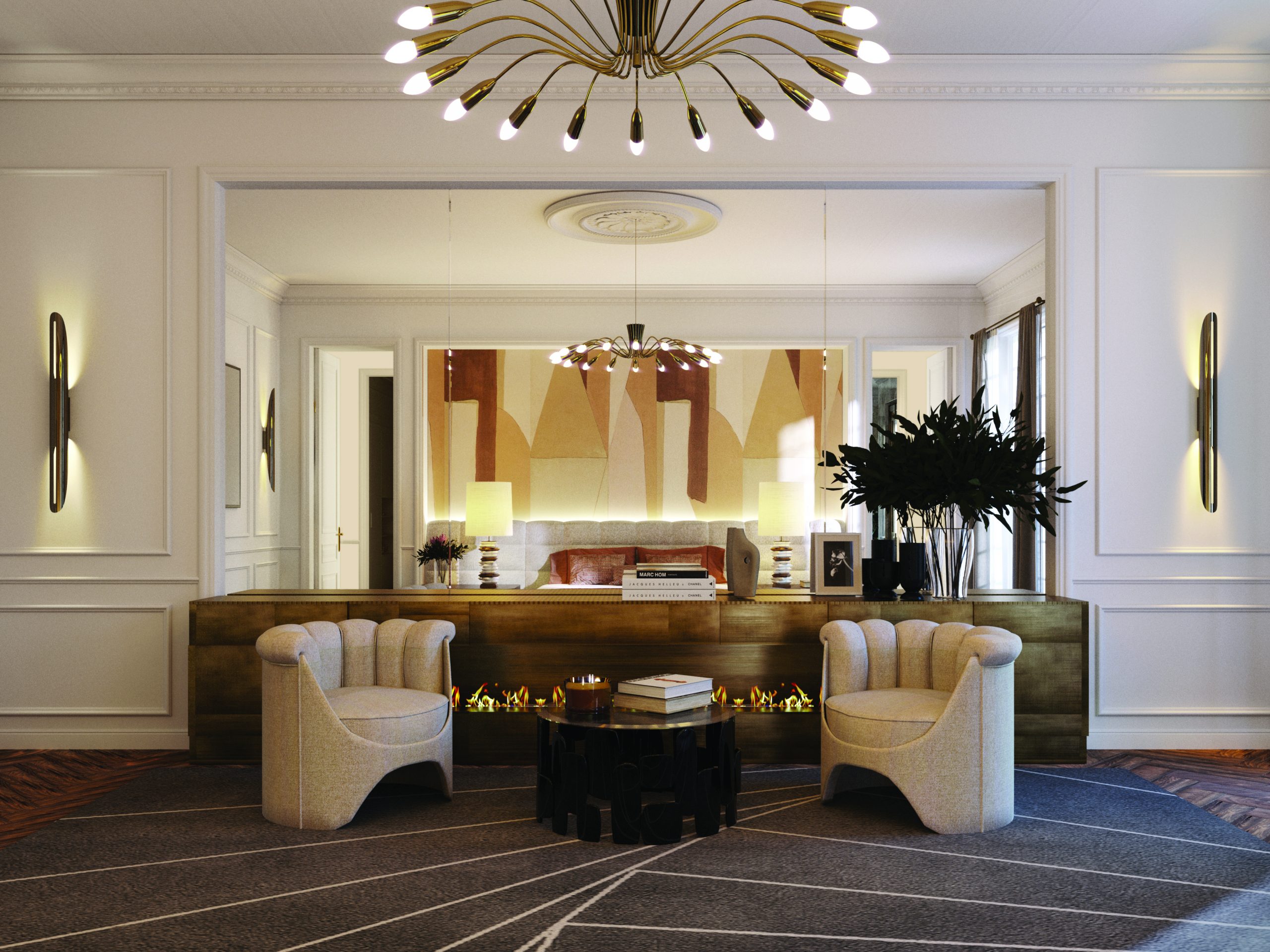 Gorgeous and modern living room with gray carpet, black center table, and modern armchairs. A uniquely shaped armchair combined with a center table creates a stunning interior design that will impress.