Modern Design Living at Salone Del Mobile 2022 – LUXXU is ready to present you with its latest innovations and redefine the world of design at this year's Salone Del Mobile! Celebrity Homes is going to give you some sneak peeks of it, but if you don't want to miss beautiful craftsmanship, come see us at B19-C18 Hall 2 and be surprised by our exquisite designs full of splendor, and elegance!
---

---
On Our Last Stand At Salone Del Mobile…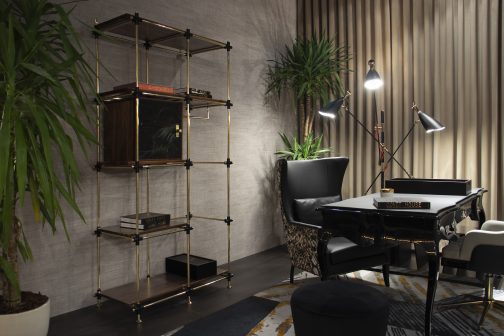 We built a spectacular luxury penthouse three years ago to showcase our goods at Salone del Mobile! We arranged the stand into numerous "rooms," such as a bedroom, bathroom, and office, so we could show off our newest bedroom and office collections, as well as new lighting ideas to complement your projects. The renowned Empire XL Chandelier, the Château Bed, and the Waltz Bookcase and Closet were some of the primary attractions of the 2019 edition of this design exhibition!
---
[brands-multimarca-luxxu]
---
Are You Ready To See What We Have In Store For This Year's Edition Of Salone Del Mobile?
Algerone & Magna Collections
LUXXU introduces two new collections including spectacular furniture and lighting components in which stone plays a prominent role. Algerone and Magna are the names to remember, as their cutting-edge designs promise to change the industry.
The Magna lighting series features seven different fixtures, each inspired by the raw lines and natural textures of mountains, starting from the top. All Magna designs exude a pendulum-like elegance and an elongated trapezium form, from a statement chandelier to an imponent floor light.
The Algerone line, on the other hand, is influenced by architectural aspects and exudes modern splendor. The majority of the pieces are made of Statuario marble, which adds to their strength and durability, while the grey color makes them perfect for any contemporary interior design.
LUXXU's new furniture collection includes a wide range of stunning pieces that can be used to complement any room. A unique sofa with classical lines and geometric characteristics, a rectangular dining table that displays the power and beauty of Statuario marble, or a sleek and sumptuous bar cabinet with Eucalipto Frise Veneer.
---
Marble Twist And Kids Collection
PullCast is updating its Twist Collection with a variety of new hardware styles that have a distinct sculptural elegance. Marble highlights and rounded forms with stunning workmanship are featured on the new items, giving them an instant classic and geometric appeal.
The Kids Collection is well-equipped with a complete choice of imaginative drawer handles with either two- or three-dimensional characters, designed to inject a little enchantment into interior design. This collection of hardware designs includes animal representations, a few treats, as well as references to sports and adventure.