Academy Award winning director Steven Spielberg, known for his record breaking box office hits, also has one of the more impressive estates in the Pacific Palisades neighborhood of Los Angeles. Spielberg's home, which sits on a 3.5 acre lot, contains 5 bedrooms and 6 bathrooms, and is estimated to be worth somewhere between $20 and $35 million.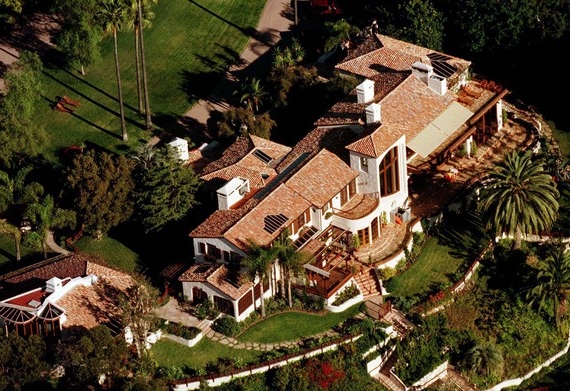 Although Spielberg tends to keep his private matters away from the public, there are a few images of his sprawling estate, including recently attained aerial SkyCam video of the property, available exclusively on Star Map, which offers a taste at just how enormous his home really is.
Spielberg is one of the most influential directors in the history of Hollywood, winning Academy Awards for Best Director on Schindler's List and Saving Private Ryan. Additionally, the director has three films that went on to break box office records, including Jaws, E.T. the Extra-Terrestrial, and Jurassic Park.
The Indiana Jones director purchased his massive Pacific Palisades property back in 1985 from singer and songwriter Bobby Vinton. In Spielberg's biography, titled Steven Spielberg: A Biography, the director explained that he decided to buy the home because of the number of important individuals that previously resided on the property, which includes David Selznick, Cary Grant, and Barbara Hutton.
"The history of the house attracted me instinctively," Spielberg explained in the book. "It was important for me to know that David Selznick had lived there during the time he produced Gone With the Wind."
Spielberg went on to reveal that one aspect of the home he loves is the Hobbit themed room, which includes a retractable TV and a hobbit-like fireplace. "Hobbits were part of my personal mythology growing up," he stated. "I wanted to have the TV room, where I spend most of my life, to have a Hobbit feel."
In 2013, Spielberg added a vineyard to the property overlooking the beautiful Pacific Ocean from his hillside. While it isn't known just how much Spielberg spent on the new addition, it wasn't likely to be noticed by Spielberg, who has an estimated net worth of over $3 billion. The vineyard can be seen in the aerial view of the property.
Meanwhile, Spielberg, who lives at the estate with his wife Kate Capshaw, is getting ready for a number of new projects that are expected to start production soon. Among his new works includes an adaptation of Ernest Cline's sci-fi book, Ready Player One.
While his enormous estate in the Palisades is impressive, Spielberg also owns houses in other parts of the country, including a home in New York City, one in East Hampton in Long Island, and another in Naples, Florida.
Spielberg also had some oceanfront property in Malibu, which includes seven bedrooms and ten bathrooms in a 7,237 square foot home. However, the director recently sold the property for over $26 million. He originally bought the estate, which included two different parcels of land, back in 1989 for $6.5 million.
Despite his other properties, Spielberg's home in Los Angeles is the most impressive by far, and is certainly fitting for a director of Spielberg's caliber.
The notorious Director seen driving around Los Angeles in his Aston Martin DB9: